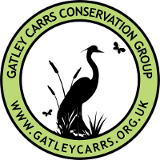 Welcome
Welcome to the Gatley Carrs Website. Gatley Carrs has been awarded the prestigious Green Flag Award, our fourth consecutive time and the only one to be awarded throughout Stockport Borough on this national scheme!
Nineteen acres of woodland, scrubland & grassland plus 4 acres of Willow swamp with 2 ponds - doesn't sound like much but Gatley Carrs is an oasis in the suburbs. The area offers a variety of routes in and around the woods, scrub and meadows or alongside the brook.
Enjoyed by nature lovers since the 1850s, the area continues to be a local haven for wildlife and has recently been awarded official Local Nature Reserve status by English Nature.
As we are now heading into the nesting season there will be signage around the reserve regarding dogs and leads. This is to ensure the safe keeping of the nesting sites at this time. It will also help to ensure the young don't get disturbed once they have hatched when they are at their most vulnerable. So just a reminder, please keep your dogs well away from the pond area.
The Gatley Carrs Conservation Group (GCCG) has planted over 200 trees and shrubs as well as installing benches and bins. Our voluntary group works for the benefit of this conservation site; maintaining the woodland and meadow. Future projects aim at improving water quality and ridding the Carrs of the dreaded Japanese knotweed.
Free Parking
Diverse Wildlife
Picnic Area
Plenty of Open Space
Maintained Walk Ways.
If you would like to get involved, or want your say on the nurturing of this piece of countryside, you can e-mail us or meet us at one of our regular meetings. Keep an eye on our Latest News (right) for the date of the next meeting.
Gatley Carrs is wheelchair and buggy friendly and we have created a space for everyone to come along and enjoy.
Please help us keep the space clean and tidy by using the litter and dog bins provided.
IMPORTANT NOTES: The main gate to the Carr's Car Park will be locked at dusk by our Wardens, (unless by prior arrangement). This has to be done to deter fly tipping and other undesirable activities, sorry for any inconvience this may cause but we hope you understand.
We look forward to seeing you.